The Ultimate Business Plan Software
"At Long Last – A Guaranteed Method To Create
Professional Looking Business Plans, Balance Sheets, Income Statements, Cash Flow Statements And More."
"Fed up with the time it's taking you to write a business plan? Intimidated by complicated business plan software? Frustrated with your attempts to prepare financial statements?"
"This revolutionary, super easy, yet staggeringly effective five-step business plan software will solve your problems - instantly!"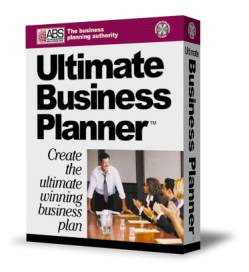 Hi. If all that sounds familiar - you're not alone. Because millions - yes millions - of business owners and entrepreneurs like you suffer from exactly the same problems.
The business plan gurus are continually telling us that the business plan document is often the first exposure an investor has to a company, often even before talking to the owner or entrepreneur on the phone or having a meeting. Whether you are starting-up a new business or expanding an old one - if your business plan doesn't grab your potential investors instantly, they're gone – sometimes forever! So even the best business idea in the world is absolutely worthless, if your business plan doesn't stop your readers and compel them to read more.
I'm sure you've read many times over how a professionally written business plan has helped a struggling entrepreneur or business owner win the funding they needed to launch or expand their business. But why is a business plan so vitally important? Consider this...
Six Reasons Why To Even Use A Business Plan:
1. People will ask you for one.
And you'll need to give them something.

Most investors are not ready or willing to invest much time understanding your business in great detail until they know it even fits their investment strategy, target markets, or investment size.

And, guess what? They don't need much information or much time to figure out whether you fit their investment criteria. But, when a business matches an investor's "sweet spot," I promise you, you'll know it!
2. People will need something that explains the details of your business.
"A potential investor will initially spend only five minutes with your plan."

They'll focus on the characteristics of your industry and your particular company, and whether there are any comparable publicly held companies. What is the size and nature of your competitors? Are you in a niche that has market momentum? Remember, a "high tide lifts all the boats."

What are the terms of your deal? How much of the company are you selling and at what price? Are you seeking debt or equity financing? How will you use the funds?

Last, but equally important, they'll assess the people involved in the deal: their track records, experience, complementary skills, time working together, the credentials of your banker, accountant, and legal counsel.
3. A business plan shows that you're credible.
You've seemingly done your homework and are in the game if you have a written business plan.

If your document includes careless mistakes or you leave out supporting details that investors expect, you can do more damage than good and even risk losing your credibility right at the start.
4. You're trying to raise more equity or debt financing.
An updated business plan tells investors where you've been and where you're going.

Don't assume that just because someone invested in you before that they'll invest in you again. Use your plan as a basis to track and update your progress to investors.
5. You need investors right now.
Sorry: it just doesn't work this way.

Not all investors are ready to invest. There are a whole set of reasons for why investors may not be ready to invest. They may have funds committed to other investments. They may be looking for a certain investment.

Nurture these investors until they are ready to invest. That's why it's important to keep them up-to-date with your business, so when they are ready to invest they'll think of you.
6. You're competing for funding and your competitors all have business plans.
Your plan is going to compete with hundreds of other plans for investors' attention and money! So you don't want it to look like every other business plan that crosses prospective investors' desks. Using business plan software can help you layout your particular plan logically to ensure that you communicate your message exactly the way you intend.
In short, a business plan can make or break your financing efforts. But no matter how many 'How To Write A Business Plan' books they get their hands on, the plain fact is that most people don't have the time, the inclination, or the dedication to spend weeks and months to learn how. That's why some many turn to business plan software for help.
"Do Any Of These Ring A Bell With You?"
You have a great business idea - but you're struggling to get it on paper.
You've tried other business plan software - but they're just not easy to use.
Potential investors ask for your plan - but never follow-up.
The business plan software you're using makes your business plan look identical to hundreds of other plans.
Your executive summary just doesn't capture an investor's attention.
You're struggling to create the necessary financial forecasts.
Your business concept is great, but you just can't lay it out in a cohesive plan.
You're spending more time formatting your business plan then you are writing it.
You just wish all your business-planning resources were in one business plan software package.
Your business plan is drowning in a sea of competition.
You're getting more and more Frustrated with writing your plan and your business plan software - BIG TIME!
Sound familiar? Yet many so many business owners and entrepreneurs have ideas for valuable businesses. Sure they may not be the mega-million dollar businesses on the front pages of the Wall Street Journal, but they're enough to make a decent living. These are genuine, passionate and credible businesses. So why don't they attract the capital they deserve? Why is YOURS struggling so badly? In most cases it's because...
"The Business Plan Software Doesn't Do Its Job!"
And - let's be honest - sometimes...
"The Business Plan Itself Just Plain Stinks!"
Yet business plan software that quickly and easily allows you to create a business plan thaqt separates your business from other businesses is the difference between Success and Failure. Between Investors and Tire-kickers. Between Funding and Mediocrity!
"So What's The Answer?"
My name's Mike Elia. I am a chief financial officer and an advisor to venture capitalists and leverage buyout specialists and the author of several articles and a business-planning book. It's taken me years to learn my deal making craft, and that same skill has been the reason why I have successfully written and presented business plans for over 17 merger and acquisition transactions worth $967 million and arranged for $760 million in financing from 1997 to 2003 alone. And, I continue to build on this record today. Yet sometimes I spend hours and hours creating a business plan or offering memorandum. And as any professional deal maker will tell you, this is by far the most important part of marketing your business. But because it takes experience and hard work...
"The Vast Majority Of People 'Just Don't Get It"
I've seen many attempts at automating the business plan process. After all there is a huge demand for such a tool. But each and every business plan software package I've seen fails miserably...whether it's incomplete, too complicated, or just not flexible enough to allow you to create that special unique plan. At least not until now!
Because a revolutionary piece of business plan software by Atlas Business Solutions, Inc. (ABS), the developer of the business planning technology in QuickBooks® Premier 2005, now makes it possible for anyone and everyone, to create powerful, attention grabbing, investor attracting business plans to rival the very best. And so they should, because their process is cleverly crafted around other successful industry-specific business plans. And, to my astonishment, ABS has finally perfected the technology to automate this difficult task. It's called...
"The Ultimate Business Planner"
And it's truly a staggering business plan software package!
"This awesome Tool will also create excellent written
descriptions of what you plan to do and
how you plan to do it. It even produces
a complete set of financial
projections too."
This business plan software takes the drudgery out of complex, time-consuming financial forecasting and business planning. It frees you up to focus on building your business case - and it's fun to boot. Since the business plan is THE most important part of attracting investors and raising capital, this business plan software tool is priceless.
"How Does It Work? - WHY Does It Work?"
Well I'll tell you, it just doesn't get any easier than this ...
Step #1

Fill in a very simple questionnaire about your business:

company name
contact information
income tax form
customer credit policy
plan start date

Click Here For A Business Plan Software Demo Of Step #1
Step #2
Fill in the Income worksheet:

Define your income categories before
entering monthly amounts.
Enter estimated income for 36 months.
Complete your projection using the worksheet functions.

Click Here For A Demo Of Step #2
Step #3

Fill in the Expense worksheet:

Define your expense categories before entering monthly amounts.
Enter estimated expenses for 36 months.
Complete your projection using the worksheet functions.

Click Here For A Demo Of Step #3
Step #4

Answer the interview questions

Step-by-step interview gathers detailed information about your company's assets, liabilities, and equity to automatically calculate the cash required at the beginning of your projection.

You will answer questions about:

Beginning account balances
Minimum cash balance
Inventory and supplier terms
Amortization and depreciation
Assets you own or need to buy
Cash available to invest (if required)
Loans to secure funds (if required)

Click Here For A Demo Of Step #4
Step #5

Write Your Business Plan

All the tools you need to write your business plan are right here including:

A business plan outline to guide you
step-by-step through the development of
your written business plan.
Topic Guide and Examples for advice and
how-to hints to overcome the many obstacles
to writing a successful business plan.
Breakthrough writers block…Twenty-five
industry-specific sample business plans
provide wording suggestions, or simply
copy-and-paste phrases or sections directly
into your business plan.
A complete text editor to enter and edit your own text.

Click Here For A Demo Of Step #5
In Just Five Steps...
Ultimate Business Planner Creates
A Complete Business Plan!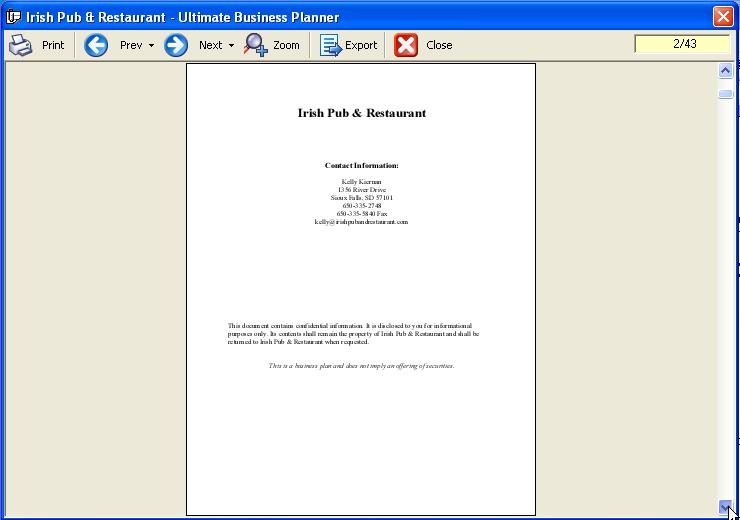 Click here to read the
business plan created from
this very demonstration!
Ultimate Business Planner generated
a comprehensive business plan that includes
financial tables, charts, graphs and
a complete financial forecast.
Order
The Ultimate Business Planner
Business Plan Software
Here Directly from ABS
Look, why struggle re-inventing the wheel. Until now, you had to spend endless frustrating hours brainstorming, floundering, writing and re-writing your business plan and "crunching the numbers" - or fork out high fees to a professional business plan writer or accountant...
"Ultimate Business Planner Is One Of A Kind.
It's Unique. It's Super-Fast. And It Works!"
But don't just take my word for it. According to ABS, over 100,000 people have relied on Ultimate Business Planner's technology since it was first released in 2001 to automatically generate their business plans. Effective business plans. Powerful business plans. Attention grabbing and Explosive business plans. Business plans that stand head and shoulders above the crowd. Business plans that attract investors and raise capital for your business!
And, It Is Recommended by Experts
Entrepreneur Magazine --
"Ultimate Business Planner takes the guesswork out of business planning."
U.S. Small Business Administration (SBA) --
"Business planning just became easier. Ultimate Business Planner guides the small business entrepreneur step-by-step to create a business plan."
SCORE (Service Core of Retired Executives) --
"Ultimate Business Planner could be the difference between the success and failure of a business."
OK How Much?
Yeah right, now you're bracing yourself for the killer high price. After all this business plan software is revolutionary and it's the only one of its kind on the market. So you'd expect a correspondingly expensive price tag. But you're wrong. Because this astonishingly quick and easy creation is only - wait for it -
Just $99
Order here directly from ABS
OK, maybe you think all business plan software is the same. I used to think the same until working with several packages and building my own complex Excel models. Well, the genius of Ultimate Business Planner is in its simplicity.
Plus, With The Ultimate Business Planner
Your Business Plan Doesn't Have To Look Like Every Other Plan"
The technology adapts a successful business planning process to suit YOUR individual and specific business. And does it beautifully! Letting you customize your plan to fit your strengthens. This business plan software package even gives you the ability to easily export your business plan to MS Word® and MS Excel® for even more freedom to customize your business plan and ensure it wins the attention of prospective investors, business associates, even government officials.
"Try The Ultimate Business Planner With Complete Confidence"

All purchases made directly from ABS are backed by their 90-day, unconditional, money-back guarantee (excludes upgrades which are nonrefundable). Simply put, if you are not 100% satisfied with this business plan software package, return it to them for a full refund of the purchase price less shipping & handling.
So stop struggling, agonizing, and sweating blood trying to create a business plan which even professionals find difficult to write. Download the New Ultimate Business Planner NOW , and watch those investors line-up and those Funding Checks come rolling in. It's about time isn't it?
Best wishes,

P.S. Look, pull your head out of the sand and face up to reality. If you are struggling to complete your business plan you're losing valuable time, this staggering business plan software package can revolutionize your business plan process - and your funding. So get started now and totally transform your business within minutes. After all, your success is guaranteed or your money back - Period!
Make Money |
Disclaimers |
Privacy Policy |
About us
© Elia & Partners, LLC 2003-
All Rights Reserved.