Free Business Plan Guide...
"Shows You Where to Start and Makes the Process Less Daunting"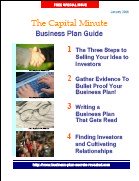 No matter if you are already in business or just starting one, this free business plan guide can show you where to start and help make the task of pulling together a business plan less overwhelming. By breaking the business plan process into four simple tasks, this guide can quickly set you on your way toward completing or improving your business plan.
Learn how to...
Get Investors Interested in Your Business Plan
The free business plan guide starts by covering the three steps that are guaranteed to get investors to stop, listen, and react to your business plan. The same three steps that I explain in the Business Plan Secrets Revealed manual.
Gather Evidence to Write Your Business Plan
Learn how to gather and organize the right evidence to build a case for your business that can separate you from other businesses in the minds of potential investors. Evidence that can quickly paint a picture of your business, support your arguments, and establish credibility.
Write a Business Plan that Actually Gets Read
The free business plan guide covers how to go about writing a business plan. You'll also discover the five questions to continuously ask yourself to ensure you stay on track as you write your business plan. Overcome the nine most common business plan writing mistakes that may be preventing you from effectively communicating your business plan.
Find and Secure Investors
Learn four ways to find investors and then how to cultivate relationships with them. Find out the four keys to developing an effective "elevator pitch" to quickly capture the attention of potential investors.
All totaled, this Free Business Plan Guide can give you enough information to start writing your business plan or dramatically improving an existing one.
Start Learning the Principles for Compiling and
Writing an Effective Business Plan Today!
For instant access to the Free Business Plan Guide, simply sign-in below. After filling out the sign-in form, you'll be taken to a page where you can safely download a PDF version of the free business plan guide.
| | |
| --- | --- |
| | Complete the sign-in form above now and your guide will include direct links to the full versions of these special business plan reports: |
Plus, you'll also receive a FREE subscription to the Capital Minute e-zine for ongoing business plan advice and funding tips. You're under no future obligations and can cancel your subscription at any time.
To get a Free Business Plan Guide, Free Subscription to The Capital Minute and additional business plan resources, fill in the sign-in box above, now!
To your success,

Mike Elia CPA, MBA
Make Money |
Disclaimers |
Privacy Policy |
About us
© Elia & Partners, LLC 2003-
All Rights Reserved.